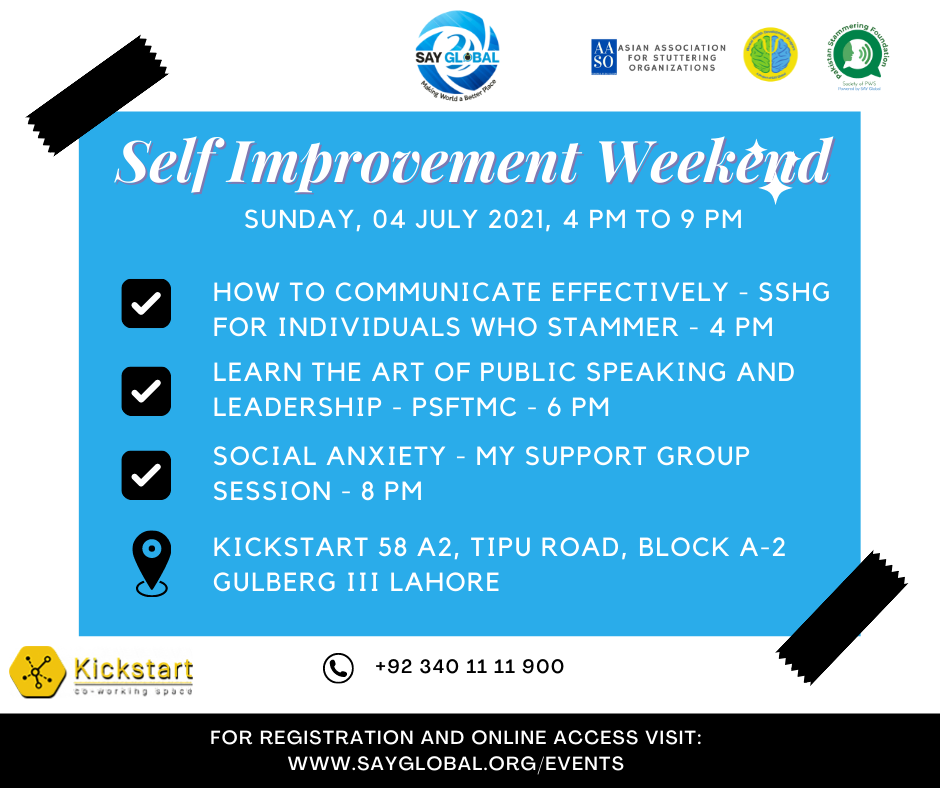 Self Improvement Weekend
4:00 pm - 9:00 pm
KickStart 58 A2, Tipu Road, near Ghalib Market, Gulberg III, Lahore
Venue: This event will be  HYBRID [online – on zoom and Physical meeting at venue]
Physical Venue: Kickstart 58 A2, Block A 2, Tipu Road, near Ghalib Market, Gulberg III Lahore.
Date and Time: Sunday, July 04, 2021 at 04 PM UTC+05 – 09:00 PM UTC+05
Meet Up: It will be  online through Zoom application and also Physical.
*PSF Toastmasters Club* welcomes you, regulated meeting no. 40.
Pakistan Stammering Foundation a project of SAY Global Foundation in collaboration with toastmasters International and Academy for Communication and Leadership (ACL) , started this club making it a heaven for the people who:
– Stammer
– have speech and language impediments
– face speech/social anxiety
– fear public speaking
– lack confidence
– want to improve interpersonal communication
– build good networking
Everyone is welcome in our friendly and safe environment and together we can achieve impossible.
www.sayglobal.org/PSFTMC
Zoom Link:
After registering, you will receive a confirmation email containing information about joining the meeting.